Uploading transaction data into your accounting package will enable you to leverage some of the benefits of using Expensemate, such as optimised VAT reclaim and simplified bookkeeping.
In this article, we look at the steps you need to take to prepare your data ready for upload into your accounting package.
Where can I export my transaction data?
You can export your transactional data from the Statements or Group Transaction Management screens.
When uploading into your accounting package, however, it is best to use the Statements report as it shows exactly the sum you have been billed and the VAT reclaimable, perfect for uploading into your accounting package. The group transaction section is better used for preparing your transaction data prior to exporting your statement.
Preparing your data export
Before exporting your transaction data, make sure you have checked everything for the accounting period in question.
Use the filters on the Group Transaction Management screen to highlight what needs to be reviewed and which transactions are awaiting checks for VAT and coding.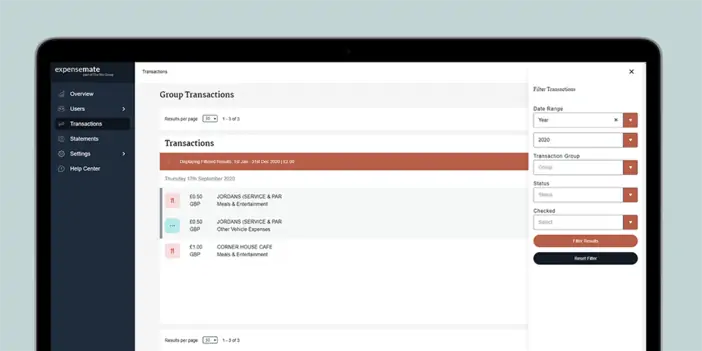 You can filter by date range, group, transaction status, workflow status, as well as those awaiting action by the accountant.
How to export your data
From the Statements screen, select the period in question and click Export to download a CSV file.
Uploading into your accounting software
Before uploading transaction data into an external accounting package, you need to prepare your data file using Excel or Google Sheets. You can filter based on nominal code and cost centre to quickly allocate expenses.
All the fields required for accounting are available in the exported file, but we recommend checking your provider's documentation so you know which fields you need for your upload.