Are you confused about billing? In this article, we explain how billing works and go through the various methods you can use when transferring funds to your balance as a prepaid customer.
How does billing work?
In Expensemate, you cover the costs of your transactions and our service fees with the same balance of funds, your Available Balance.
As a prepay customer that means you will need to ensure you have sufficient funds in your account at the end of each month.
Topping up your account
There are two ways to loads funds into your account: pay as you go or automated top-ups.
Pay As You Go
This is our most flexible payment option, whereby you top up your account as and when you need to.
The minimum top up amount is £250.
To top up your balance, send funds to the following account via bank transfer:
Account name: Expensemate ltd
Sort code: 30-94-44
Account number: 53113468
Automated Top Ups
Enabling automated payments is an easy way of simplifying the billing process. It works by topping up your account each month with a specified amount through a direct debit.
We normally recommend that you set the value to 125% of your expected spend; this should leave you with enough money in your account to cover your transactions and fees.
Speak to your account manager if you would like to set this up, or use the link below.
Set up your direct debit here.
Viewing your available balance
You can view your available balance from the Overview screen of the portal; this is the first screen you see when you log in.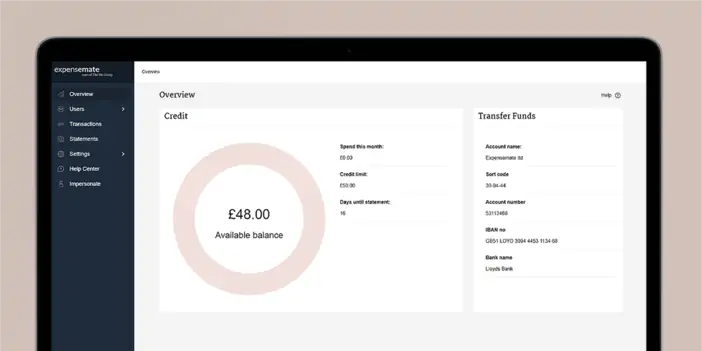 From here, you can see your balance, the amount spent during this period, and, if you have automated payments enabled, the value of your next top up.
The donut on the left side of the screen illustrates your spending in relation to your available balance.
Considerations when topping up your balance
It is important to understand how any changes to your balance might affect your spend profiles. If you load more funds to your account compared to previous months, you may find that, although you have money in your account, your card users are unable to access the funds. In this scenario, their cards have hit the thresholds set out by their profile.
Always reach out to your account manager before any additional increases so we can ensure the relevant cardholders have access to the funds.