Do you need clarity on how and when you will be charged for your credit account usage?
In this article, learn how to understand how much you owe, what documents you will be sent by Expensemate, and how payments will be made.
How do I know what I owe?
We understand that knowing in good time what you are going to be billed for is important, therefore we offer you, as an administrative user, a real-time overview of transactional data from your account, which gives you the ability to monitor an accurate picture of spend throughout the month.
The location of this data is on the Overview section of the portal.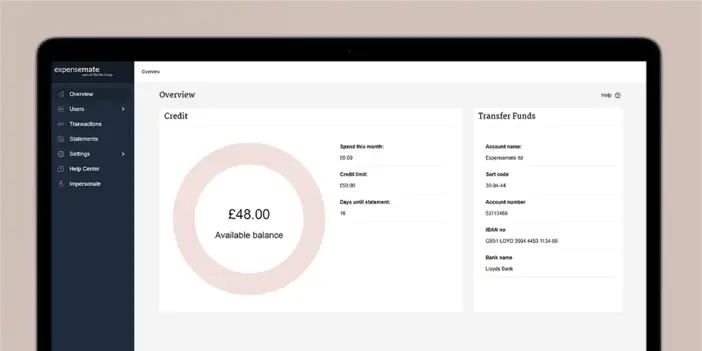 It shows you, as an Evolve customer, your balance that is due (outstanding payments), the date that balance is due (influenced by your payment terms), your spend so far for this statement period (influenced by cardholders), and the date at which the statement will run (influenced by your statement frequency).
What documents will I receive?
Each billing period you will be informed of your total spend, any fees and charges for the use of Expensemate services, and your payment terms via a pdf document direct to the email entered on your application form.
This document is your invoice to Expensemate Ltd and will only show a high-level summary of your activity.
A detailed, line by line transactional statement is available for download from the* Statements *section of the Expensemate Portal at any time.
This document will match to your invoice by date and unique reference number.
The purpose of the detailed statement is to enable you to reclaim VAT for all of the expenses you have managed through the Expensemate portal.
Methods and timelines for payment
As a credit customer, you are likely to be set up for payment via Direct Debit to the Expensemate account. This will mean that payment is automatically taken in line with your agreed payment terms.
Should you need it, here is a link to complete a direct debit mandate
At Expensemate, we offer flexible payment terms to suit your business requirements. If you would like to amend your terms, please do so by contacting support@expensemate.io
Please take into account the impact that this may have on your credit limit.