This is a guide on how to utilise the Account Switcher and Cross Company Reporting Tool within the Expensemate customer portal. This enables you to manage multiple accounts from a single login, thus enabling seamless management of multiple accounts.
Simply follow the guide below to get the most out of the new feature.
Adding a New User to Each Company
To add a new user to a company, you can follow our Add New User guide here.
Switching Between Companies
Once your email has been assigned to multiple company accounts, you can switch between companies by logging in to your portal and clicking the bottom left of the page where you can see your user profile information.
Select which company you would like to manage on the account switcher, and you'll be transported into the chosen company's portal, it's that simple!
This can be seen in the image below.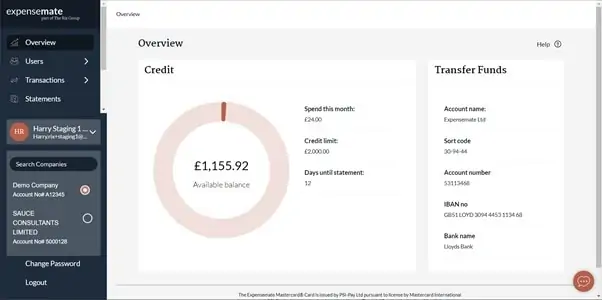 Exporting transactions with the Cross Company Reporting Feature
Once logged in, you will also see a new option in the menu located to the left of the screen called Cross Company. If you click this option, you will be guided to the page seen below.
Here, you can select which companies you would like to export the transactions for within the Companies drop-down menu and set your own filter with the Date Range drop-down menu, allowing a quick export for whichever period and company account you may need data from.
This export will include all transactions and fees associated with the period in question.