You've done your research. It's obvious that Expensemate can save you some serious cash and reduce your workload. Even so, you're worried. Rolling out a new expense management system is hard, right?
In reality, rolling out Expensemate is quick and easy. You can get set up in a few hours, configure your account within a month and start saving. Before you know it, you'll be the office superhero.
We are always developing exciting new features and updates too, at no additional cost to users. Your subscription will always stay the same.
Plus it's low commitment. There's also a free 30-day trial with no strings attached. If Expensemate isn't right for you, you can cancel that month.
Still not convinced? Read through this short guide, and you'll see.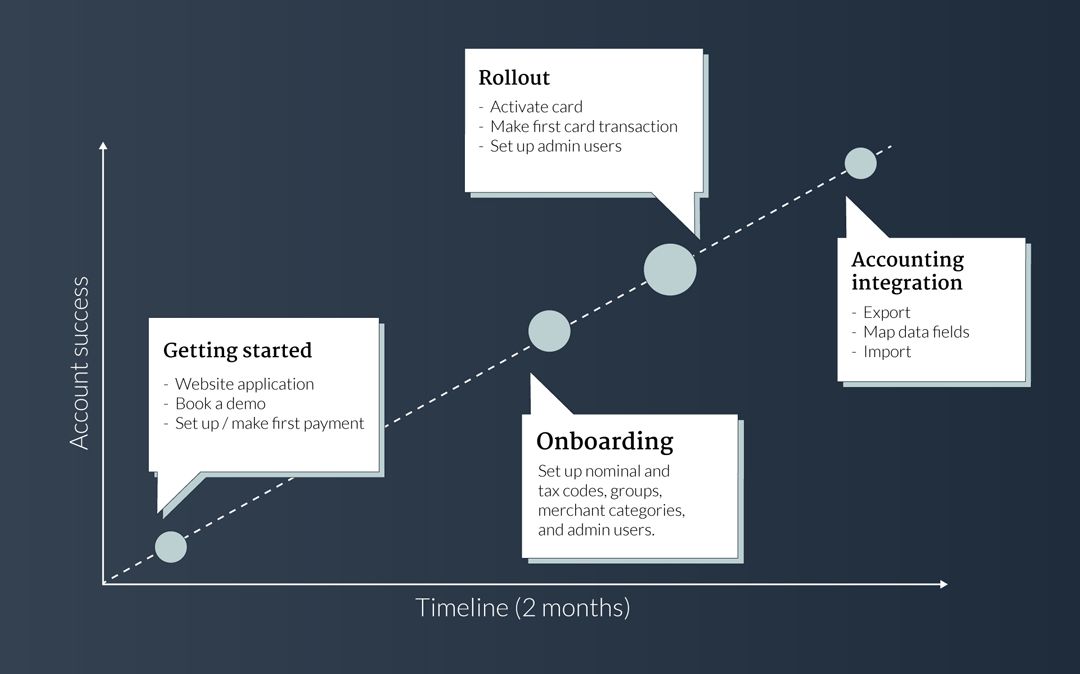 Starting up (45 minutes)
First, you pick your plan, prepay or credit, and you fill out the Get Started form. It only takes a minute as long as you have basic company information to hand. You'll then receive a call from one of our friendly sales advisors to book your demo.
We run a few straightforward background checks to make sure your business is legitimate. If you want a credit account, we evaluate your creditworthiness too.
After you enjoy your free demo, your account manager will be in touch to book your portal training, order your cards and arrange payment.
For more information read our step-by-step guide on implementing Expensemate.
Portal set up (30 minutes - 1 hour)
Congratulations, your account is live! So far, you've spent up to 45 minutes of your time. You're also well on your way to making some major savings.
While you wait for your cards to arrive, it's time for your portal training. We'll walk you through account set up and configuring all the necessary settings including spending limits and vendor category restrictions.
You'll also learn how to set up groups to match the cost centre structure of your organisation. And how to set up your nominal codes, tax codes, and purchase categories, so you can integrate your data seamlessly with your accounts package.
After your video call, you'll be good to go. You'll be using Expensemate like a pro in no time.
Card roll-out (2 minutes for each user)
The day you've been waiting for has arrived. Your cards are finally here! Now all you need to do is roll them out. It's beyond simple and takes mere minutes.
Give the cards to your team, and wait while they download the Expensemate app from the Google Play Store or the Apple App Store.
When they launch the app, they must follow the in-app instructions. Then input their card number and unique company number.
That's it! Your team can now start using Expensemate with their new cards.
If you ever need new cards, it's quick and easy to order them in the portal.
Accounting integration (1 hour)
A lot of people think that integrating your expense management system and your accounting package is tricky. But it's actually a simple process.
Integrating Expensemate with your accounting package is easy and will allow you to streamline your bookkeeping and VAT reclaims. The first thing you need to do is get ready to export your transaction data.
Check over the transactions for a given period. And see which ones need reviewing and which transactions need to be checked for VAT and coding. When you're happy, it's time to export your data. You do this by heading to the Statements screen and clicking export to download a CSV file.
Before you upload your CSV file into your accounting package, you need to prepare your data using Excel or Google Sheets. Filter by nominal code and cost centre to allocate the expenses quickly.
To learn more about uploading your CSV file to your accounting package, read our article on uploading transaction data.
Next, you import the data into your accounting software. The process is different depending on your accounting system. Fortunately, we've created short step-by-step guides for different packages:
If you're using a different package, and you're not sure what to do, contact our super helpful customer service team at support@expensemate.io.
See the benefits
As soon as your team uses Expensemate, they'll start to see the benefits.
One of the first things that your staff notice, is that the system is incredibly easy to use. Expensemate is designed for the whole team and not just people who work in finance. So it has a friendly user interface designed by developers experienced in UX.
They'll also be able to see how much they've spent, their spend limits, and their expense categories whenever they want. Gone are the days of trying to remember the company expense policy only to make a mistake, have a dispute, or be out of pocket.
Your managers and finance team will notice the difference too. They'll have real-time oversight and clarity. Knowing exactly who's spending what and where. Possibly for the first time ever.
The finance department will appreciate just how easy it is to plug Expensemate into their existing tech stack. So mapping out expenses and updating the books is quick and easy.
Plus, they won't need to chase after receipts, deal with paper expense reports or reimbursements anymore. Instead, they'll be less stressed and able to focus on moving your business forward financially.
Your finance team will probably be the first to notice how much money you start saving too.
Ultimately, rolling out Expensemate is quicker and easier than most people imagine. The benefits become apparent as soon as staff use their cards, all the way until you start seeing a difference in your bottom line.
Are you ready to see the difference? Take advantage of our 30-day free trial.