Expense policies are incredibly useful documents that give employees important information about the rules and procedures surrounding workplace purchasing.
Having one in your business won't necessarily stop fraudulent spending, but it will help deter it. And, if nothing else, it gives your team clarity about how exactly to spend the company's dime.
Creating a policy from scratch can be daunting. So, we have done the hard work for you. You will learn how write one using a template based on the same expense policy we use here at Expensemate.
You can either plug and play or follow the steps to craft your own.
Download it here...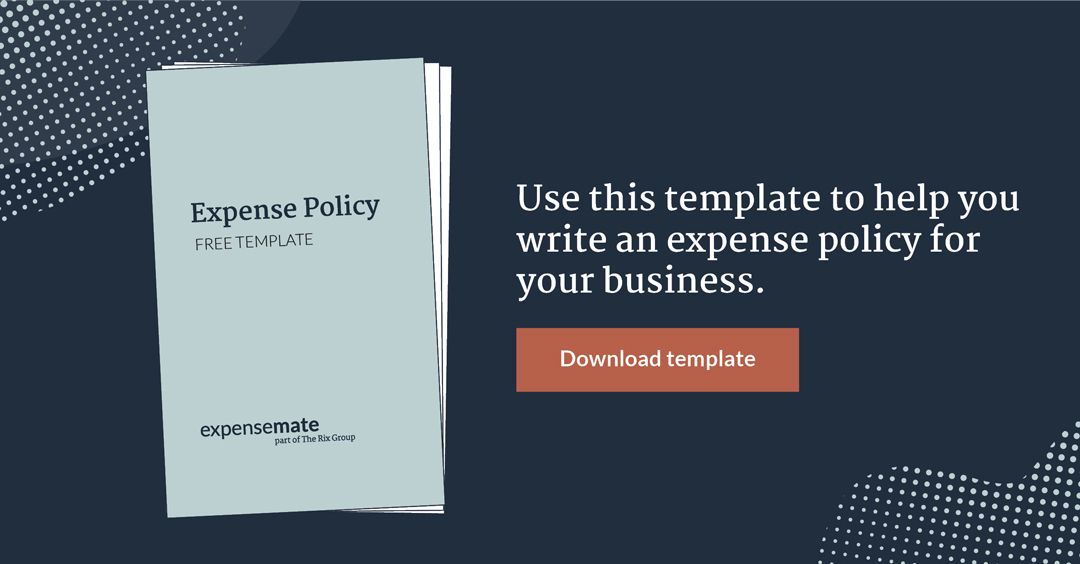 Planning your policy
Before writing, have a think about the unique characteristics of your business. For example, does your business value employee freedom, or is it more focused on keeping costs down?
Your policy should reflect your culture. If you are cultivating an atmosphere of freedom and responsibility, go for a less prescriptive policy. Alternatively, if you want to keep costs down, do the opposite.
Check out these unique and interesting company expense policy examples for some inspiration.
Expense policy sections
Once you have a clear vision, you are ready to start.
In our free to download template, we use the following sections:
It's important to note that the template set out in this article is for a business like ours, one that trusts employees to make the right decisions and uses technology to safeguard against abuse.
Your business may be different, so you will need to adapt it accordingly.
Purpose and scope
It's good practice to explain to the reader up-front the purpose of the document. Who is it for, what topics does it cover, etc.
Start by saying something like:
"This document outlines the correct procedure for all staff purchasing products or services in the pursuit of business activities."
Key principles
Most good policies include a section about company values. It helps set the tone for the rest of the document up-front.
Your expense policy reflects your company, so you need to ask yourself: who are you, and what do you stand for?
It also affects how your employees feel. If your policy is exhaustive and specific, they might wonder if your business trusts them to do the right thing. They might also feel stifled by complex regulations that are too easy to forget.
On the other hand, if your margins are thin, or you have a complex organisation then stringent rules and regulations might be just what you need.
Writing a short sentence summarising your values is a good way to start.
"We're passionate about our staff never being out of pocket to the company. That's why all employees are provided with Expensemate cards to handle their business expenses."
Remember, the values of your business should guide your whole policy.
Managing your expenses
The main goal of this section is to describe your procedure as clearly as possible so that your employees know exactly how to spend money for the business.
Our team uses Expensemate cards, so we use this section to explain what that means.
It goes something like this:
"As an employee, you are provided with an Expensemate payment card which is appropriately customised with individual spending rules and limits, depending on your position in the company. It comes with an accompanying mobile app which you use to capture your receipts and invoices."
Reimbursements
Regardless of whether you use Expensemate or some other payment mechanism, it's hard to avoid reimbursements completely.
Use this section to explain how the reimbursement procedure works in your business and what employees need to do to get their money back.
Travel expenses and mileage
If travel and mileage are relevant to your policy, layout guidelines and rules in a dedicated section.
Before listing the specifics, though, you should start by briefly outlining your business's approach to travel expenses.
Something like this helps lay the foundations of what follows:
"We will cover any travel that is done in the pursuit of business outside of your standard travel to and from the office."
After which, go into the specific subcategories of travel expenses. Remember, it's your policy, some of these may or may not apply.
Accommodation
In this section, clearly describe your rules on accommodation expenses.
Ask yourself:
When should your employees book hotel rooms?
How much are your employees allowed to spend?
Does your business have a travel provider?
Do you want your employees to book hotels or pay for accommodation in a specific way?
Meals and subsistence
Again, simply describe your rules for meals and subsistence expenses.
Ask yourself:
When will your business cover your employee's meals?
How much are they allowed to spend?
When and where are they allowed to spend it? For example, you might only cover meals and subsistence when the employee is traveling.
Official business hospitality
Entertaining valuable customers, potential clients and useful contacts is an important part of business. You should expect to relax the rules when it comes to official business hospitality.
That said, you might want to put some constraints in place for good measure. For example, you could set some spending limits and rules and factor in the ratio of employees to guests during events.
You might also want to create a gift policy too.
Incidental expenses
Incidental expenses are those little, and often overlooked, extra travel expenses including calls, wi-fi, and laundry. Ask yourself, how much should your business cover in a given time period?
Unacceptable expenses
We like to finish our expense policy on items that are not acceptable as it tends to stick in the minds of the reader.
You can be as detailed as you like here. But long lists are hard to remember. So, try to stick to behaviours rather than specifics.
For example, saying "no unauthorised equipment upgrades" is better than listing the various equipment items that an employee might potentially try and purchase.
Further reading
This article is ideal if you just want a plug-and-play solution. But if you want to learn more about how to write one from scratch with no template, check out our employee expense policy tips article.
You might also want to check out these cool expense policy examples which will be sure to inspire you to create your own.